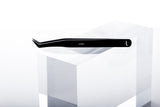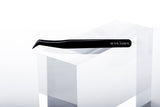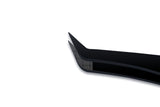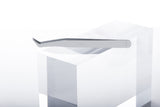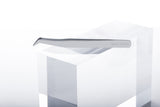 Soho Light Volume OmniGrip Tweezer
Introducing the Soho Light Volume OmniGrip Tweezer.
It's no secret that the right tweezer can facilitate the execution of a perfect set -  and our ever growing collection has one to cover every angle.
Elegant and dripping in liquid black or chrome, our lightweight and precise tweezers perform effortlessly with the slightest tension. 
Fabricated with highly durable Japanese surgical grade steel, angled at 45º, this little number is well suited to create the perfect 4-5D fan. 

Each tweezer is hand crafted, calibrated and hand tested for pinpoint, control and flush blade closure with our exclusive OmniGrip Technology (for more information, please see specification section below)
This is the ideal tweezer for artists who mostly work with light volume sets and do not require the added expense of a Mega Volume tweezer. Alternatively, this is a great option for educators who teach classic and volume foundation courses while providing high quality kits.
* THE LIGHT VOLUME TWEEZERS ARE PERFECTLY SUITED TO PICK UP LIGHT VOLUME FANS (4-5D). THEY ARE NOT INTENDED FOR MEGA VOLUME FANS. THESE TWEEZERS ARE NOT ELIGIBLE FOR RETURNS. 
SPECS
Finish: Jetblack plasma or Chrome

Angle: 65º 

Length: 11.5 cm

Width: 1 cm

Weight: 0.6 oz

Tension: soft (adjustable to medium)

Suitable for sterilization by autoclave

Intended for: Light Volume and Classic.




OMNIGRIP SPECS
The OmniGrip technology is an evolutionary leap forward in tweezer design, providing users with never before seen precision, unparalleled pickup control, and perfectly calibrated ergonomics, tension and grip.

Each OmniGrip tweezer model is purposefully designed with the artist in mind.  The inner portion of every blade is laser etched with fine grid marks that make for optimal performance pickup and hold. 
SANITATION
Follow this two-step process to ensure that your tools are safe for reuse. First, clean off any debris or residue with alcohol or acetone wipe. Second, fully immerse tweezers with EPA approved disinfectant and let air dry prior to next use. 

Do not immerse tweezers in acetone, bleach or any ammonia-based solvents as this can dull the finish. 

Do not leave tweezers immersed in disinfectant for extended periods.
 STORAGE
Store in a sterile and closed container after sanitation.

Protective storage is recommended to preserve precision and integrity of the tweezer

* Note: Do not use these tweezers to remove strip from lash trays or from lash tiles.