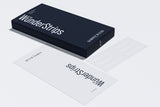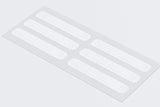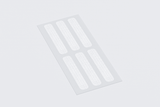 Introducing the long-awaited innovation in lash tape design! The time has come to leave behind the hassle of pre-cutting tape during your appointments and step into an era of convenience and efficiency with our newest creation – WünderStrips. 
We prioritize hygiene and sterility in the lashing environment, and we know you do too. To ensure utmost cleanliness and eliminate the possibility of contamination, each individual packet of WünderStrips remains heat-sealed until the moment of application.
Facilitate your lashing workflow with the convenience of these pre-cut, perfectly sized and read-to-use tabs. The medical-grade adhesive backing provides a reliable hold; with its optimal tackiness, the strips secure the lid in place throughout your entire appointment – eliminating the need for constant readjustment.
WünderStrips are intended for:
Assisting with the ideal lid lift for better visibility and easier maneuvering of the lash line

Manipulating inner and outer corners with ease.

Facilitating the visibility and isolation of various layers.

Ideal for clients with harder to tape-back lids
*NOT intended for clients with very dry or highly sensitive skin.

SPECS
Each box contains 15 individual and sterile packets, with 6 strips per pack (for a total of 90 strips per box)

Average cost per client under $0.50 per client

Medical-grade non-woven reinforced CCK release paper

Medical-grade adhesive backing for sensitive skin

Sterile packaging

Latex-free
USE
Effortlessly peel a tab and adhere it to lift the eyelid or to secure the bottom lashes in the desired position. Remember not to adhere the strips to a secondary surface to maintain their sterile condition.