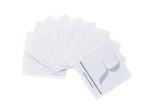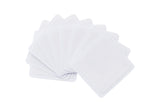 Self-Adhering Glue Stickers
One and done! Keep your set-up sterile and tidy for every appointment.
These non porous, high gloss, coated disposable stickers are intended to keep your glue droplet fresh and in place while you lash. Just peel, stick and then dispose after every appointment.
They can be used in conjunction with jade stones, glue trays, or directly on tiles/palettes.
SPECS:
Available in packs of 25, 50 or 100 pieces.

Size: 3.5 cm x 3.5 cm

Easy peel

No sticky residue

Disposable for easy clean up

One sticker can fit up to 9 glue droplets. 

Non-porous

High gloss finish

Pairs well with our Acrylic lash palette