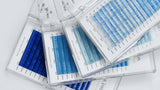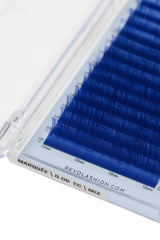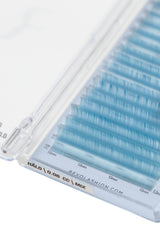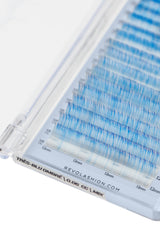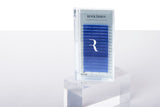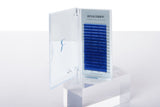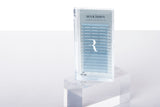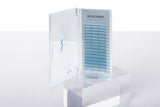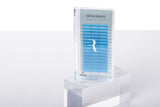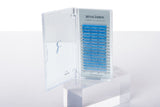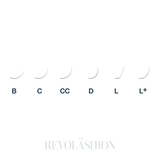 MaliBlü Collection - Mixed Length Trays
Our MaliBlü Collection evokes blue pastels, crystal waters, and Pacific skies. 
A match made in lash heaven for anyone craving a gentle burst of color, for enhancing light eyes or contrasting darker ones. Taking a dive into the deep blue never looked so elegant.
The fibers are as sultry as authentic silk – Our lashes are handcrafted with the highest quality PBT and carefully selected for consistency. Our Mulberry Silk Collection lashes are soft and flexible while maintaining the integrity of the curl and possess the perfect interlocking mechanism to help you build and place fans quickly and beautifully. 
Each strip is housed on silver foil (no paper) for easy peeling and grooves to facilitate faster work with minimal strain. 
Please see comparison photo for tones of our Dark (Marquēe), medium (Rēigndrop) , light (Hālo) and two-tone (Très-Blu Ombré) trays.
SPECS
16 rows per tray

Foil strips (no paper) for reduced residue on tiles and easy peeling.

2mm strip with medium stickiness for optimal fanning speed.

Fibers are made of the highest quality PBT – porous and flexible for optimal interlocking with the natural lashes, these fibers are also tapered and dimensionally stable (will not lose their curl)

Fiber type: Rayon (synthetic silk)

Finish: Semi-gloss

Printed on each row for convenience is the lash curl, length and diameter.

Each lash tray has an indicator label (curl, length, diameter) on both the front + bottom section for optimal organization

Each tray also comes with an additional indicator label that can be used to label your lash tiles/palettes for optimal organization.