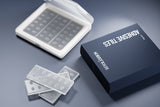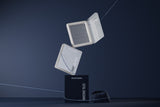 Simple, convenient and easy to use, these reusable adhesive tiles are an essential accessory to your lashing work-flow. Housing 12 wells per tile, each of which accommodate a single drop of adhesive. They aid in protecting your glue from overexposure to oxygen and moisture, therefore reducing the frequency with which fresh drops of adhesive need to be dispensed within each appointment.

The tiles feature thoughtfully designed glue wells with an optimal shape that assist in perfect submersion and coating for every extension. 
The tile surface is made of a non-porous, inert glass which will not bind or interact with the adhesive droplets on a chemical level. It also helps control the temperature of your adhesive during application due to the natural cooling properties of the glass.
Additional rubber stoppers included with every set to help secure your adhesive tiles in place during use. 
SPECS:

3 tiles per pack 

81 replaceable/self-adhering rubber stoppers included per pack

Material: Glass

Dimensions: 50mm x 20mm x 5mm
HOW TO USE:
Peel and stick one rubber stopper underneath every corner of the tile. 
Made to fit perfectly with Revoläshion Acrylic Lash Palettes, simply position your tile in the desired location on your lash palette or other desired surface on your workspace. Dispense your adhesive into the first well and you're ready to lash!
 Switch to the next well as needed. Do not reuse the same well for more than one dispensing. 
SANITIZATION
To clean the tile, simply submerge and let soak in acetone for fifteen (15) minutes to remove dried adhesive. 
To sterilize the tile you may also use barbicide or similar disinfectant and follow the guidelines for that particular product. 
Once disinfected, thoroughly rinse the tile and dry completely before reusing it.