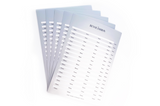 Gone are the days of storing your Pro Mades in jars and DYI containers and have them turn into a clumped, sticky mess! Start Pro making like a PRO with these trays and store your fans away safely and securely!

This is a great accessory to use for practicing and storing fans for future use or in preparation for model/content photoshoots. Also a great item to add to training kits for students to use for practice in class.
* Each Pro Made Tray includes 1 card with 16 rows. Refill cards are sold separately (in packs of 5).
SPECS
16 rows

Each row labeled accordingly (4-14cm)

Each row can house 60+ fans depending on placement

Each strip is covered with protective removable film to preserve stickiness until use.

Reusable – Strips do not lose stickiness if carefully handled. Can be used multiple times until worn out.

Tray size: 11cm (W) x 14 cm (L)
DIRECTIONS FOR REFILL CARDS
Step 1: Once the strips on your current card are worn out, using a dull tweezer, peel off all the aluminum backed strips to expose the white glossy paper behind them.
Step 2: Take your new refill card out of the packaging and remove the protective layer on the two strips of double sided tape found on the back of the refill card.
Step 3: Insert the card into the tray and press down until the double sided tape fully adheres to the the white glossy paper. 

* Educators interested in buying these items in bulk, please email Hello@revolashion.com
* PLEASE NOTE: No lashes are included in these trays. They are for storing pro made (handmade) fans.