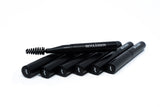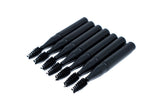 The days of carrying around linty lash wands in your bag are a thing of the past — it's time to leave those suckers in the d u s t !
Perfect for on-the-go lash queens. Light weight with a unique design and removable lid, these cuties are sure to become a staple in your purse & makeup bag! Durable and easy to clean, they are sure to make your clients happy and encourage them to brush those mutherfluffers daily!
Encourage proper aftercare and lash health by adding this accessory to your retail shelf or including it with every service.
SPECS
High quality, matte black finish
Aluminum material
Removable lid included
Nylon bristles
Dimensions: 9cm (L), 1cm outer diameter
Sold in packs of 5, 10, 25, 50 or 100 units
Reusable
USE
Cleanse with soap and warm water or with a foaming lash cleanser/shampoo. Let air dry
This item should not be used on more than one client in-studio
BULK ORDERS
For bulk order pricing for >100 units, please contact hello@revolashion.com