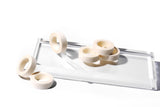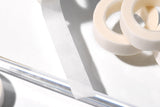 Multi-purpose tape to assist you with your eyelash extension application process. It is gentle to skin yet adheres firmly to skin.
SPECS
Sold in packs of 1 roll or box of 24 rolls
Medical grade tape
Hypoallergenic and latex-free
Non woven, breathable 
Leaves no residue
Dimensions: 1.2cm (W), 9m (L) 
USE
Securing gel pad to avoid it from moving up or down during application
Manipulating lashes by taping up the eyelids for easier isolation and layer work.
Taping the eyelids down to avoid eyes from opening/fluttering
Aiding with inner and outer corners
Securing bottom lashes
* Revoläshion does not endorse dispensing adhesive on any micropore tape due to the chemical interaction that occurs between the tape fibres/coating and the chemical components of the glue.