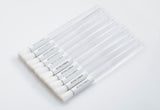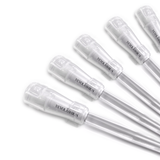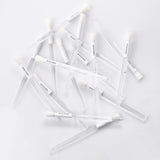 Cleansing Brushes - Pack of 25
Rub-A-Dub-Dub! You know you gotta scrub, scrub, scrub! All together now!
Makeup residue, debris, impurities and oils – #youcantsitwithus
What better way to promote client aftercare then by providing them with the proper tools to do it!
Our acrylic cleansing brushes aren't just hella cute, but they are a total must have for every workstation + retail shelf!
Help clients protect their fluffy investment and get the most out of their extensions by integrating this item into their routine.
These brushes are specifically designed for lash aftercare. Super soft yet firm enough for the deepest clean for any lash line to keep it healthy and fluffy. Each brush comes with a snap-on cap to keep the brushes clean on-the-go.
SPECS
Clear snap-on plastic protective cap included

Acrylic handle

Synthetic nylon bristles, vegan.

Bristles do not have a cuticle to reduce oil and pigment absorption.

Size: 13.5cm in length

Sold in packs of 25 pieces
USE
This is an item that should not be used on more than

one client

in-studio.

 

Throw away after each in-studio use or give to client to take home.

Use with gentle, non-burning cleanser or shampoo specifically formulated to be eyelash extension friendly. Do not use with DIY or store bought cleansers intended for other purposes.

Can also be used in conjunction with makeup removers.

Clean brushes using makeup brush cleanser or soap and warm water. Do not use any sterilizing agents such as barbicide.