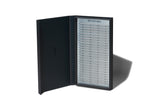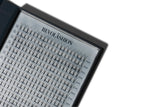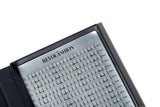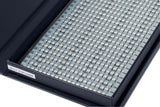 0.06 CC Single Length Premade Trays - DISCOUNTED - ALL SALES FINAL
Crafted for the skilled artisan –– Sharp, consistent,  deep V-bases, 100% heat bonded, strong curl integrity and easiest peeling strips that won't mess with your fans. These premades will  𝙨 𝙚 𝙖 𝙢 𝙡 𝙚 𝙨 𝙨 𝙡 𝙮  integrate into your handcrafted sets.
A great addition to your lash arsenal, these premades were designed to assist in completing a set by cutting time from the application process for the days you need it most.
Revoläshion is a strong proponent of mastering your artistry and does not endorse the use of premade fans by untrained technicians nor for the fans to replace proper volume training. These premades were intended to be used by skilled artists as a supplementary tool.

SPECS
25 rows X 20 fans = 500

 

fans per tray!

Foil strips (no paper) for reduced residue on tiles and easy peeling.

2mm strip with the slightest stickiness for easy pickup.

Fibers are made of the highest quality PBT – porous and flexible for optimal interlocking with the natural lashes, these fibers are also tapered and dimensionally stable (will not lose their curl)

Fiber type: Rayon (synthetic silk)

Finish: Semi-gloss

Printed on each row for convenience is the lash curl, length and diameter.
DIRECTIONS
Grab the base of the fan by firmly closing your tweezer and peel upward
Adjust the grip of your tweezer by positioning it in the center of the fan
Dip into adhesive and attach to the natural lash as you would a hand made fan, using the same quantity and placement technique.
Please note: Regular size tiles/palettes cannot accommodate strips of premades. We recommend using our Large Acrylic Tiles in conjunction with this product that can be found under 'Accessories'.